Breast Enhancement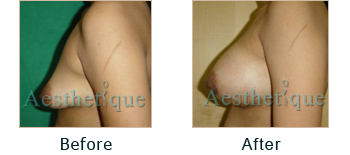 Breast augmentation is a surgical procedure in which breast implants are placed to fulfill your desire for fuller breasts (breast enlargement) or to restore breast volume lost after weight reduction or pregnancy (breast enhancement).
Benefits:
Increase fullness and projection of your breasts
Improve your figure proportions
Enhance your self-image and self-confidence
Candidacy
You are concerned that your breasts are quite small, or disproportionately small to your body build.
You are dissatisfied with your breasts losing shape and volume after pregnancy, weight loss, or with aging.
Your breasts are asymmetric in size or shape
One or both breasts failed to develop normally
You are not a good candidate if
You have significantly drooping breasts. In this case Breast Augmentation would have to be combined with the breast uplift procedure.
Important decisions to be made at your consultation
What size do I want to be/what is suitable for me
What incision would be best suited for me.
As per individual assessment the implant is placed above or below the chest muscle (pectoralis major).
The implants:
They are a textured surfaced silicon shell with cohesive silicon gel inside.
Procedure:
Anesthesia: It is performed under general anesthesia.
Duration of the procedure: It takes about 2 hours for the procedure.
Choice of Incision:

1. Infra-mammary incision- under the breast, in the breast fold.
2. Peri areolar - around the nipple-areola complex, at the junction of the dark and light skin.
Recovery :
Can resume normal routine in 2- 3 weeks.
Strenouous activity and exercise can be resumed in 3-4 weeks.
Duration of Results:
The results of your breast augmentation surgery will be long-lasting.
Breast implants are not guaranteed to last a lifetime and future surgery may be required to replace one or both implants.
Pregnancy, weight loss and menopause may influence the appearance of augmented breasts over the course of your lifetime.
Risks and complications :
Unfavorable scarring
Bleeding (hematoma)
Infection
Poor healing of incisions

Changes in nipple or breast sensation, may be temporary or permanent
Capsular contracture, which is the formation of firm scar tissue around the implant
Implant leakage or rupture
Wrinkling of the skin over the implant
Anesthesia risks
Fluid accumulation
Blood clots
Pain, which may persist
Possibility of revisional surgery
Although there potentially may be complications with breast implants, they do not impair breast health.
What's New?
Breast augmentation with Autologous (one's own) FAT admixed with stem cells.
Procedures commonly done concomitantly with Breast augmentation are:
Liposuction:  Arms, Hips, Flanks ,Abdominal